ID-Titration Solution
The ID-Titration Solution is a dilution medium intended to be used for the titre determination of antibodies in patient and donor samples with the ID-System
Main features
Standardized medium designed for ID-Cards
For IgG or IgM titration procedures
Suitable for any kind of titration including anti-A and anti-B titration
Fully automated on IH-500 and fully integrated with IH-Com
For a better accuracy, traceability and reliability
Description
ID-Titration Solution is a dilution medium intended to be used for the titre determination of antibodies in patient and donor samples with the ID-System.
Combined with ID-Titration Rack, ID-Titration Solution can be used with IH-500 which leads to a higher accuracy in the dilution procedure and a better reliability of the overall titration process.
ID-Titration Solution is also suitable for manual use with the ID-System.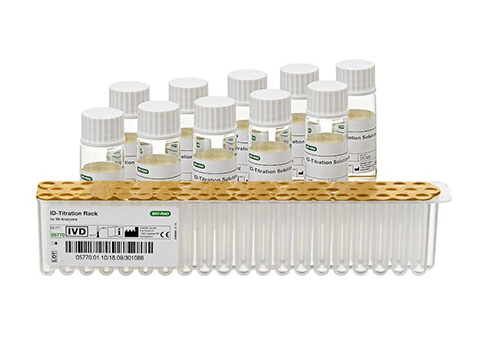 CHARACTERISTICS
Description
Standardized medium for titration / Empty racks for the use on IH-500