About us
Bio-Rad
Bio-Rad is a global leader in developing, manufacturing, and marketing a broad range of innovative products for the life science research and clinical diagnostic markets. With a focus on quality and customer service for 70 years, our products advance the discovery process and improve healthcare.
Our customers include university and research institutions, hospitals, public health and commercial laboratories, biotechnology, pharmaceutical, as well as applied laboratories that include food safety and environmental quality.
Clinical Diagnostics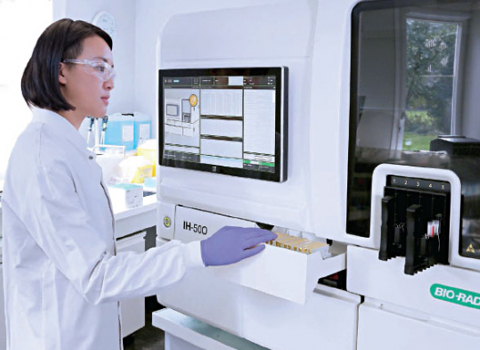 As a leading global provider of in-vitro diagnostics supplies, our diagnostic products and systems leverage a broad range of technologies and deliver high-value clinical information in the blood transfusion, diabetes monitoring, autoimmune, and infectious disease testing markets. These products are used to support the diagnosis, monitoring, and treatment of diseases and other medical conditions.
Bio-Rad is the world leader in clinical quality control products, services, and information systems, products that ensure the accuracy and validity of clinical test results.
Immunohematology
Bio-Rad is a leading provider of blood typing products, offering a wide variety of platforms, reagents, data management, and connectivity solutions that address different volume blood typing needs. Our automated blood typing and screening systems are based on gel and microplate technologies.
In addition to helping laboratories more efficiently manage their blood testing workload, the systems offer extremely high sensitivity and specificity and are able to identify very rare types of antibodies and red cell antigens in a patient's blood with greater reliability. Used along with our data management and connectivity software, all of Bio-Rad's immunohematology products can be integrated into a seamless system to address the needs of any blood typing lab.
Because every detail matters when it comes to determining compatibility of a donor's and patient's blood, we provide the tools clinicians need to ensure a perfect match. With access to multiple blood sources, we can manufacture a large number of reagent red blood cells with clinically relevant antigen profiles. Our arsenal of monoclonal and polyclonal reagents can identify a wide range of blood types so clinicians are able to dig deeper to discover possible interactions between antibodies and antigens to deliver safe and accurate results.